Most airlines allow small domestic cats and dogs, and even rabbits and household birds to travel with you in-cabin under the seat in front of you. When traveling on an airplane with a cat or dog, you should read up on the airline's policies to make sure you are able to comply. Most airlines charge a fee to bring your pet on-board an airline but there are a lot of other things you should know and consider.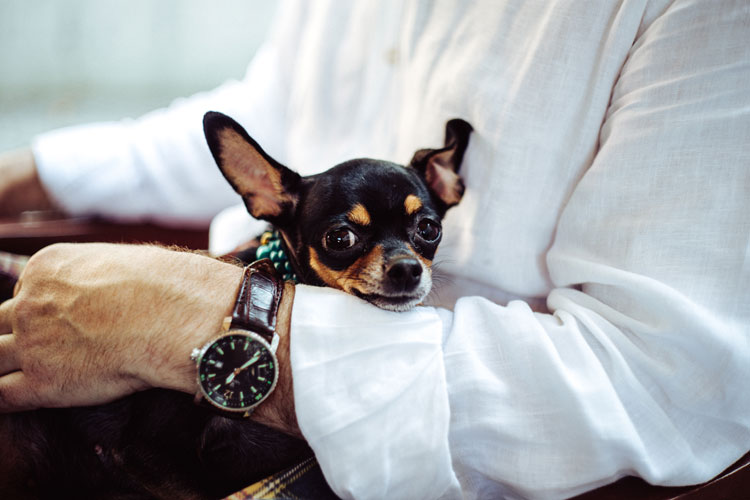 Your pet's vaccinations should be up-to-date before the airline will approve your request to bring them on-board the airplane. All pets must be carried in an appropriate carrier and many airlines only one pet carrier per ticketed passenger. However, some airlines will not allow animals to travel in-cabin on international flights or any itinerary that includes an international flight.
Did you know that if your pet becomes distressed during flight that first aid and/or oxygen will not be administered. The airlines assumes no liability for the health or well being of your carryon pet. Pets needs to be at least eight weeks old for air travel.
Some airlines will not let your pet travel alone but others like Delta, offer Delta Cargo for shipment of your pet. You must travel with your pet and pets are not permitted not travel with unaccompanied minors. While pets can be checked, similar to luggage, and travel in the luggage compartment, you may feel more assured that your pet is safe if you carry them with you in a pet carrier with you in-cabin. Some animals may be too large for this situation.
Pets have to stay in their approved pet carrier for the entire flight. This can be a problem if you are on a long flight or if your pet becomes distressed.
Pets must be checked in at the airport ticket counter, however Customers can still secure their boarding pass online, at curbside checkin, the airport kiosk, or the ticket counter. Airlines can refuse acceptance of a cat or dog exhibiting aggressive behavior or any other characteristics that appear incompatible with air travel.
The Pawfect Pets TSA Approved Pet Travel Carrier for Small Dogs and Cats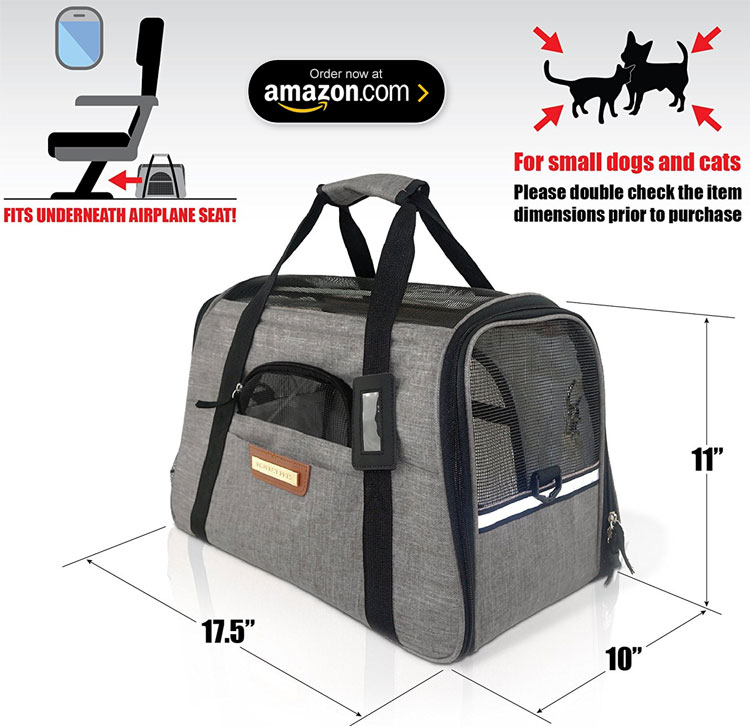 Airline Approved Pet Carriers
Pet carriers are considered either a personal item or a carryon item. A Customer may board the aircraft with either a pet carrier and a personal item or a pet carrier and a regular size carryon bag. A Customer may not board the aircraft with a pet carrier, a regular size carryon bag, and a personal item. The pet carrier must conform to all carryon baggage regulations.
Approved pet carriers vary from airline to airline but here are some of the standard sizes they often consider.
Jet Blue Airlines Approved Pet Carrier Sizes: Pet carrier can not exceed 17″ L x 12.5″ W x 8.5″ H and the combined weight of your pet and the carrier must not exceed 20 pounds. JetBlue's "JetPaws" Pet Carrier measures 16″ L x 8.5″ H x 10″ W
United Airlines Approved Pet Carrier Sizes: The maximum dimensions for hard-sided kennels are 17.5 inches long x 12 inches wide x 7.5 inches high (44 cm x 30 cm x 19 cm). The recommended maximum dimensions for soft-sided kennels are 18 inches long x 11 inches wide x 11 inches high (46 cm x 28 cm x 28 cm). Soft-sided pet carriers may exceed these dimensions slightly, as they are collapsible and able to conform to under-seat space without blocking the aisle.
Southwest Airlines Approved Pet Carrier Sizes: Southwest Airlines sells a Pet Carrier that measures 17" long x 10.5" high x 10" wide. Other pet carriers with maximum dimensions of 18.5" long x 8.5" high x 13.5" wide. Soft-sided and hard-sided carriers specifically designed as pet carriers are acceptable. The carriers must be leak-proof and well ventilated.
Airline Pet Policies
Read Southwest Airlines Pet Policies
Read United Airlines Pet Policies
Read JetBlue Airlines Pet Policies
Read Delta Airlines Pet Policies
Traveling on an airplane with your pet is possible but you need to know everything the airline requires first. Educate yourself before you take your next flight so you will be ready and clear on what the airlines requires.