When we travel we need to make sure our devices are charged. Our smartphones and tablets are essential to travel because they keep us connected to our life back home. Here are 10 chargers you should consider to help you power your next trip.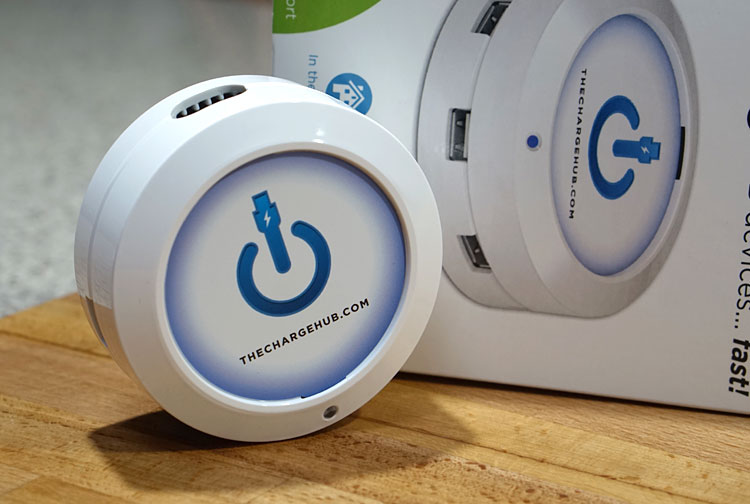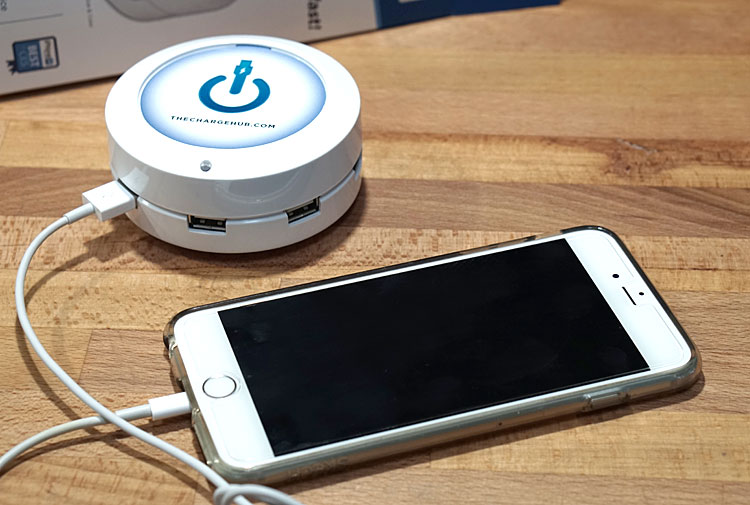 The ChargeHub 5-Port Charger
The ChargeHub X5 is a 5-port USB charging station that allows you and your travel buddies to share a power supply. It offers SmartSpeed technology that provides optimal charging for virtually any USB device. When powered, a blue LED indicator light and underglow light effect illuminates the ChargeHub device, acting as added nightlight. This single power source eliminates excess cables to maintain a neat and organized space for charging. For those wanting color options, the ChargeHub is available in black, white, blue, red, green, orange, pink and purple. For those needing to charge more USB devices at one time, ChargeHub offers a 7-port charger. The ChargeHub X5 receive the Best of CES 2016 Award by iPhone Life Magazine.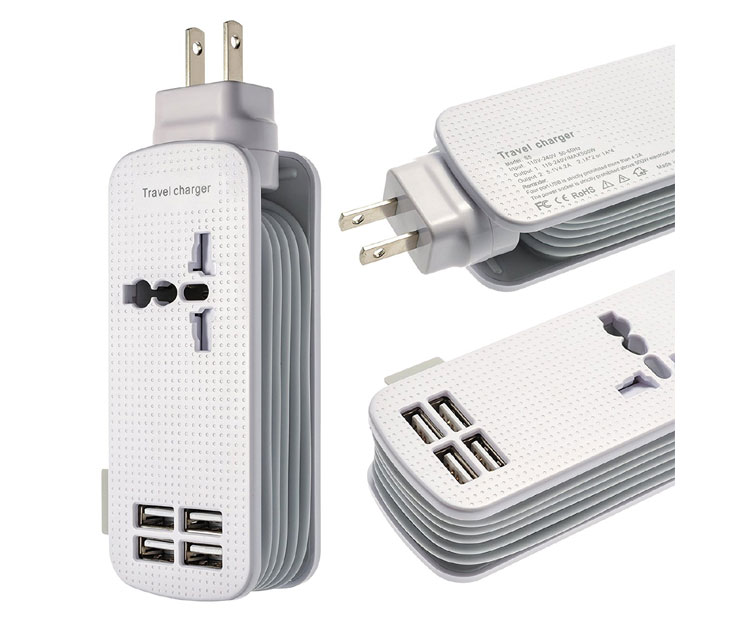 eTzone Portable Travel Wall Charger
The eTzone Portable Travel Wall Charger has a compact design with a wraparound power cord for easy storage. It's Ultra compact design fits into luggage and briefcases, convenience for business trips and vacations. The 1.5 meter/5ft power cord provides a flexible way for extension. Due to Hotel rooms, airport terminals, and coffee shops never seem to have enough power outlets to handle all your devices at once, such as cell phone iPad power bank, laptops etc. For the color-convenience traveler, the eTzone portable wall charger is available in white, pink, and green.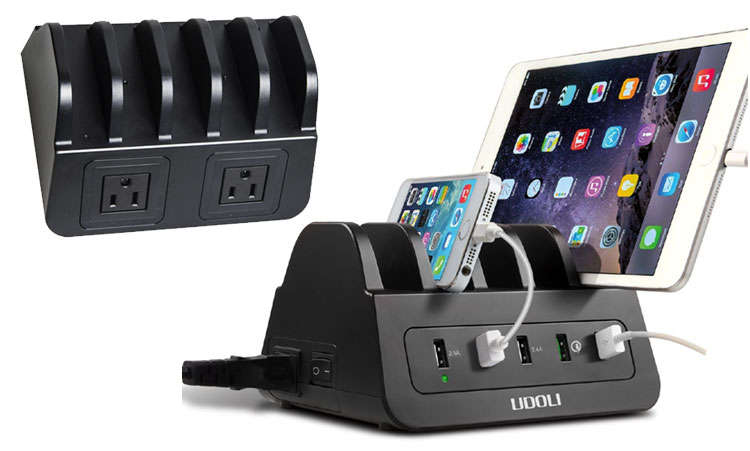 Udoli USB Charging Station with AC Outlets
The Udoli Charging Station is a compact all-in-one charging dock that features 2 standard AC outlets. Smart chipset prevent overcharging and overheating. Charge your tablets and phones on the Charging Station, no more searching for outlets, lighting cables and plugs everywhere. Perfect for home, dorm room, office, community and more places.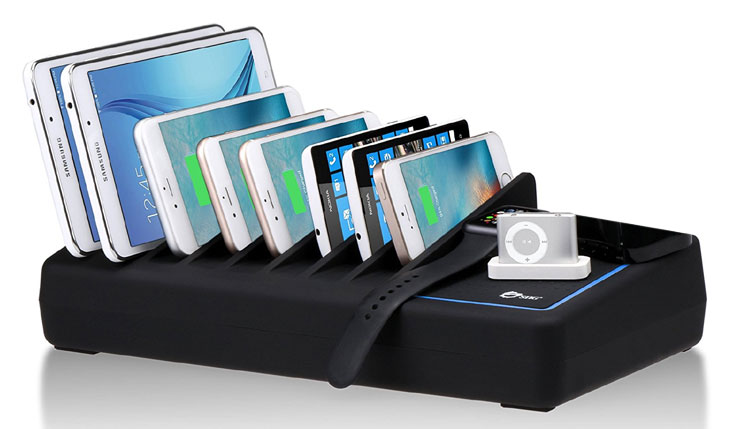 The SIIG Smart 10-Port USB Charging Station
The SIIG 90W Smart 10-Port USB Charging Station can hold up to 10 devices at the same time and features a non-slip padded deck and LED ambient light. The SIIG charging station Automatically detect your USB devices and distribute the perfect charge to each charging device individually. Each of the 10 ports provides up to 2.4A maximum power output. Charging will automatically stop when battery is full. Multiple over-current, over-voltage, over-charge, and short-circuit safety protections are built in to safeguard all of your connected devices. It comes with a FCC, RoHS certificate, and UL-certified power adapter. Worldwide AC 100-240V input voltage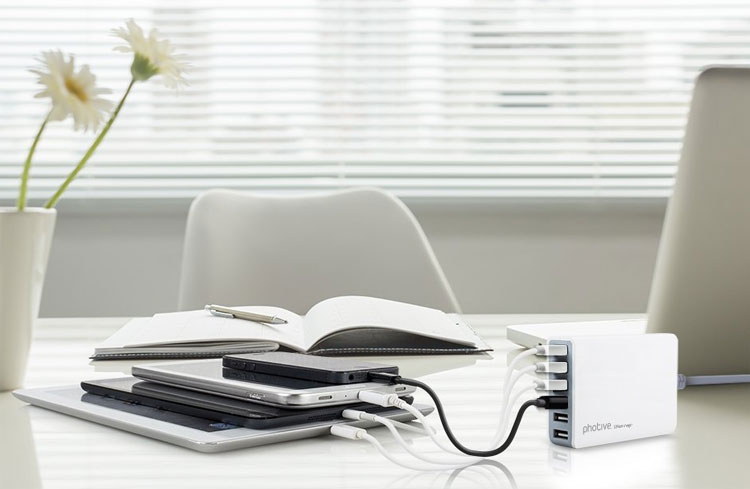 Jelly Comb 4-Port USB Charging Station
The Jelly Comb 4-Port USB Charging Station charge up to 4 devices at the same time, overcharge protection, without risk of overheating or damaging devices. Offing SI (Smart identification) technology, it detects your device to deliver its fastest possible charge speed up to 2.4 amps per port or 5 amps overall. It also offers a handy stand for your smartphone or tablet. With space-saving design the Jelly Comb charging station features a heavy-duty plastic outer shell with built-in 4 ports USB Adapter into one charger.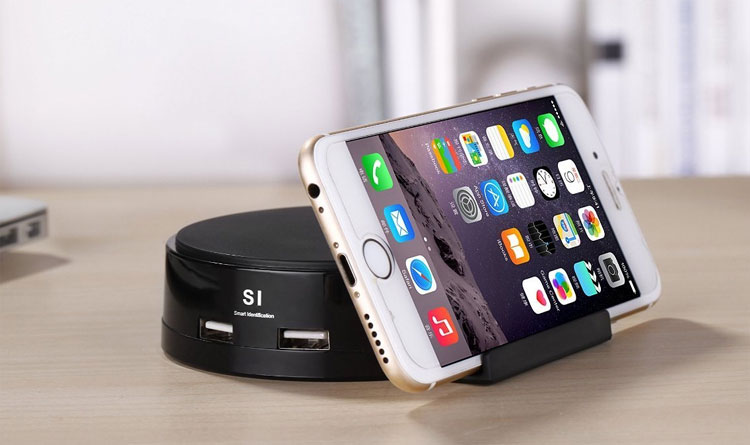 Poweradd 50W 6-Port Desktop Charger
The Poweradd 50W 6-Port Desktop Charger offers auto detect technology, automatically identify the current of your devices, whichever port can charge your devices at their fully intended speed upto 10A max. The unique dock station design, keeping your tablets or phones in position while charging. It has a wide input voltage range of AC 100-240V, compatible with all 5V USB-charged devices. Built-in intelligent circuitry ensures safe use for all your devices. Multiple protection systems provide device safety for protection from over-charging, over-voltage, over-current, over-temperature and short circuiting.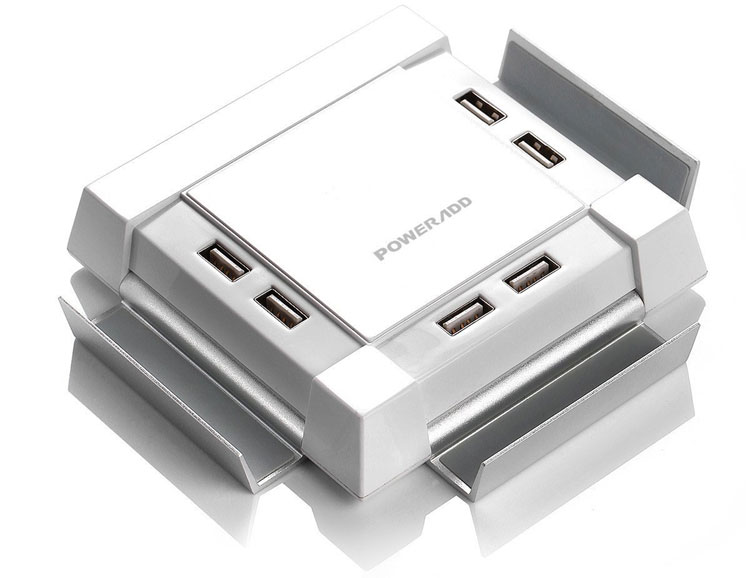 Photive 60 Watt 6 Port USB Desktop Rapid Charger
The Photive 60 Watt 6 Port USB Desktop Rapid Charger is an industry first 6-port 60 Watt 12 Amp Rapid USB Wall charger. This 60 watt charger has revolutionized charging. Intelegent USB ports will communicate and recognize the device it is plugged into and will provide the fastest possible charging speed. With a total of 6 USB ports and a total output of 60 watts, this charger is optimized to charge nearly any USB device. It will reduce the clutter of tangled cords and chargers in your home or office, and it's perfectly-sized for travelers.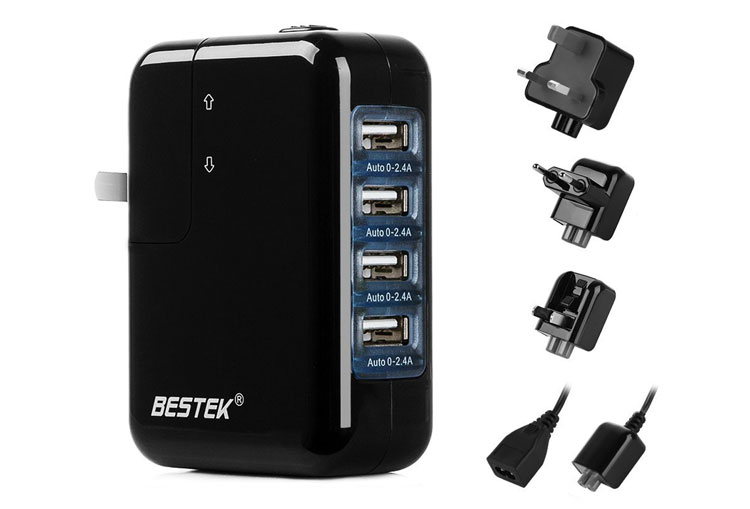 BESTEK 4-Port Charger with Travel Power Adapters
The BESTEK 4-Port Charger has a total 5.2A Max output and each port could be 2.4A Max for charging 4 tablets at the same time with full speed. This worldwide 100-240V USB travel charger and dual voltage allows you to use in any country. It come with 3 interchangeable adapters (US/UK/EU Plug) support worldwide power sockets and the US/AU 2 in 1 design make your life Simple. Lightweight and ultra durable, the USB wall charger will fit easily into any travel bag or purse. 5 feet detachable power cable, makes it easy to pack and take anywhere you go. LED Indicator lights: Red lets you know your device is plugged in and charging. Green means fully charged or idle.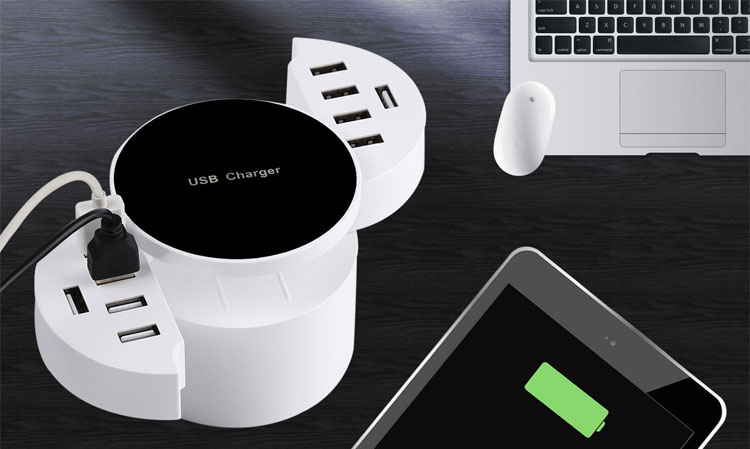 LESHP Foldable Smart USB Wall Charger
The LESHP Foldable Smart USB Wall Charger provides a creative foldable wing design and comes equipped with 10 ports. Each port is suitable for mobile phones and tablets charging quickly. The LESHP charger is foldable and displays a LED light when powered. It comes with a 1.5m input power cord so you can plug it in and set it where you need. This mini charger is lightweight and simple so you can take it anywhere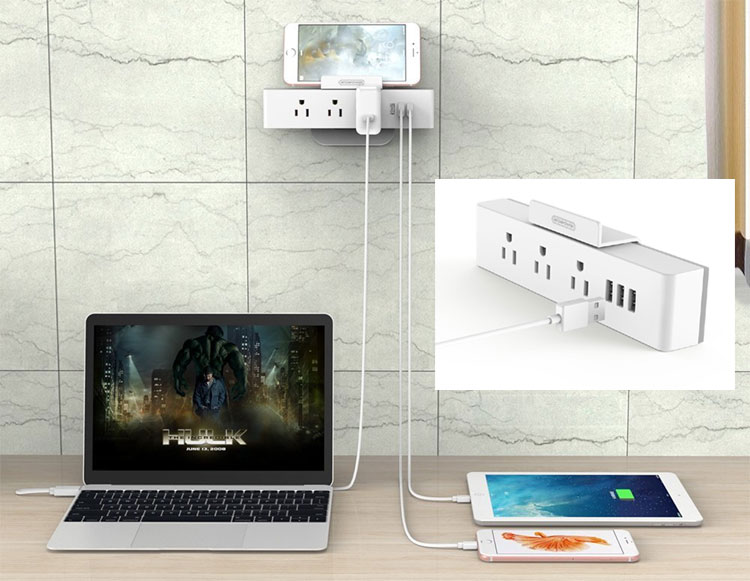 NTONPOWER Wall Plug Power Strip Charger
The NTONPOWER Wall Plug Power Strip Charger can be used at home and is slim enough to fit into luggage for traveling. It not only charges USB devices but also features AC Outlets and a nightlight. The lip on the edge offers a place to rest your phone on while it is charging. It measures 8″ long by 2″ wide so is compact enough for travel. Plug the unit into any regular wall outlet and you have instant access to 3 AC outlets and 3 USB ports, a nightlight and smartphone stand.