Spend the day at Berkshire East Canopy Tours in Charlemont, Massachusetts and you be dead tired but energized at the same time. The Zip Lining tours at Berkshire East Canopy Tours makes for a fun day or weekend trip. It was a pleasant drive and once we arrived in Charlemont we found it to be a laid back and friendly place to visit. Charlemont is on the outskirts of Shelburne Falls, Massachusetts.
For those who do not know what zip lining is here is a little explanation. Zip lining entails zipping across a steel cable, anywhere from 20′ to 185′ above ground, while attached to the cable by two straps which are attached to a harness.  My first thoughts about doing zip lining were a mix bag.  "Do I really want to zip along a cable high above the ground or play it safe and just watch while others give it a try?"  In hindsight, if I had a bucket list, I would put zip lining on it as some definitely to do at least once in your life.
Berkshire East is located on the eastern side of the Berkshire mountains in Massachusetts on Thunder Mountain and serves as a ski resort in the winter while offering zip lining during the Summer months. They opened up these tours in 2009 and have become the Eastern Berkshires hidden gem for families, groups, and couples alike.
Berkshire East Offers three different levels of zipping:
Base Area Tour
Mountain Top Tour
and Valley Jumping Tour
The Base Area Tour is the introductory level for those who want to just give it a try.  The Mountain Top Tour is the intermediate level; and the Valley Jump Tour is the extreme adventure.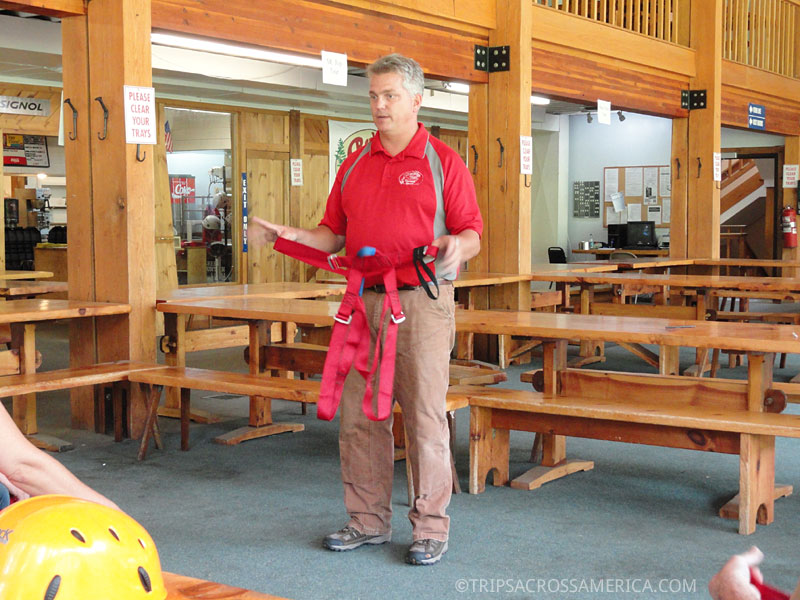 As we drove into the East Canopy Tours parking lot, we could see the mountains high above and envision beautiful snow covered peaks as the zip lining tours turn into a thriving winter ski resort.  We were met by friendly staff members.  I thought we were probably doing the Base Area Tour, but we were informed that we would be doing the Valley Jump Tour.  Hmmm, I said in my mind, is this a good idea?
Just so you know, the Valley Jump Tour includes 6 zip lines ranging in length from 700′ to 2600′ and the last two are affectingly know as X1 (Extreme Zip 1) and X2 (Extreme Zip 2).  Wondering why they are called that, well, X1 is 2300′ long and spans the valley between the ski area and the mountain side. X2 is 2600′ long, 186′ above the ground and can reach speeds in excess of 50 mph.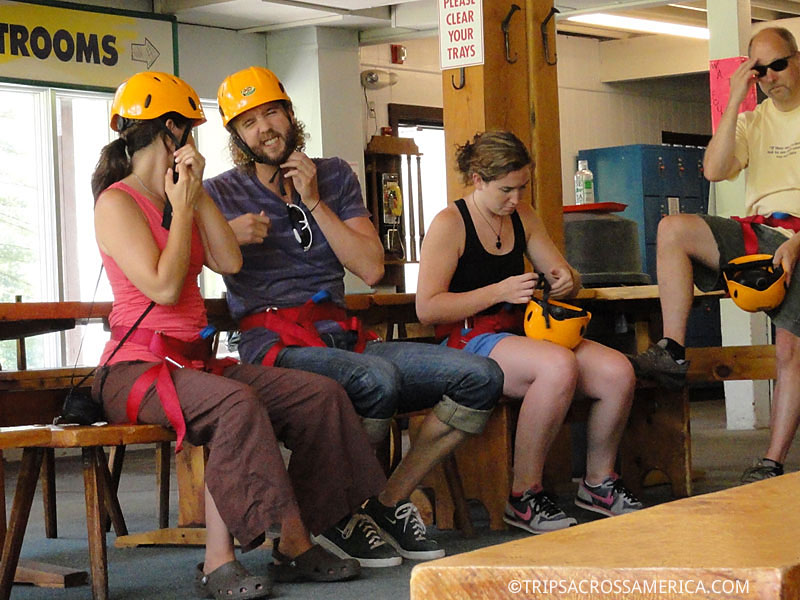 After getting into our harnesses and helmets, listening to instructions, and meeting our very friendly and helpful guides (they love their job), off we went to ride the ski lift to our first jump. Our guides were very helpful and made the adventure enjoyable and safe.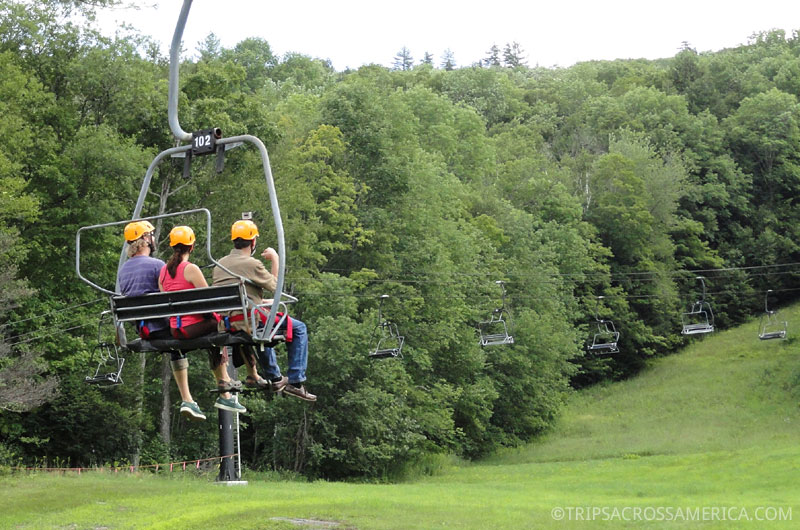 At the first jump we were told to hold onto a strap as we zip along the cable and, boy, did I hold on for dear life. Okay, one down and 5 more to do.  As we hiked to the next jump, I was talking to a guide and he said that I was holding on too tight and should just lightly hold the strap.  So that is what I did on the next jump and sure enough it turned my experience around 180 degrees from something close to fear to a thrill ride.  Now I was looking forward to the next jump and finally the extreme jumps.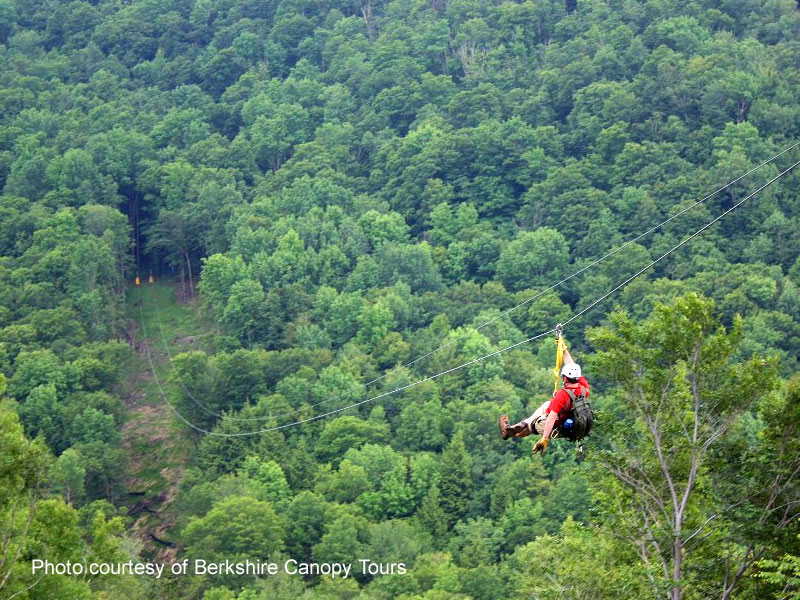 The level of excitement and adventure grew with each jump as they got longer and higher. At last (after a nice little hike up the mountain) we reached X2.  What a ride X2 was; high above the ground, zipping along at 50 plus mph with nothing holding you in the air except a steel cable and a harness.  The sights were breath taking.  We finished with a ski lift ride back down the mountain with an experience and stories to last a lifetime.
You will definitely want to put this Massachusetts day trip on your schedule and try the extreme zipping tour because it will definitely be an adventure.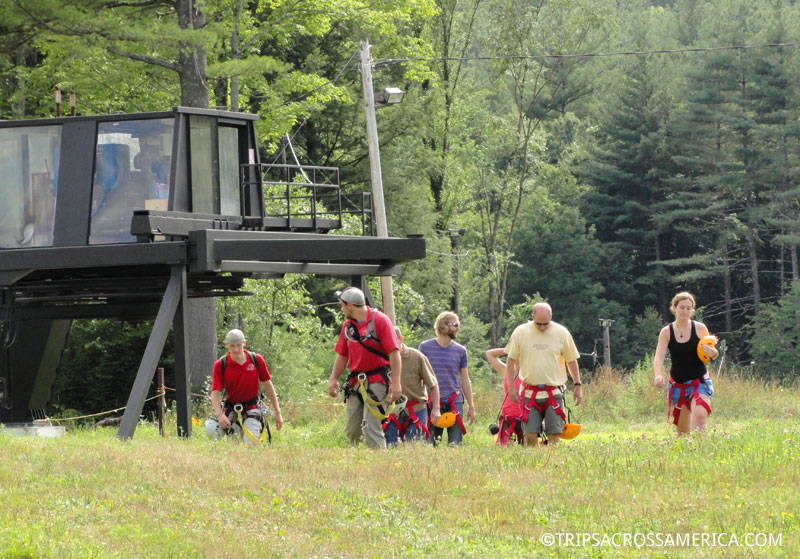 You can find out more about these zip line tours, the cost, get directions and more at berkshireeast.com/zip-lines. Berkshire Canopy Tours has been featured by USA Today as one of the top ten zip line tours in the United States.