Working ranches allow you to experience life as a cowboy – with cattle drives, round ups and all sorts of ranch work. At Dude Ranches, horseback riding is the main attraction. Fly-fishing and other varied western activities await you as well. Resort Ranches offer western activities with high-end amenities.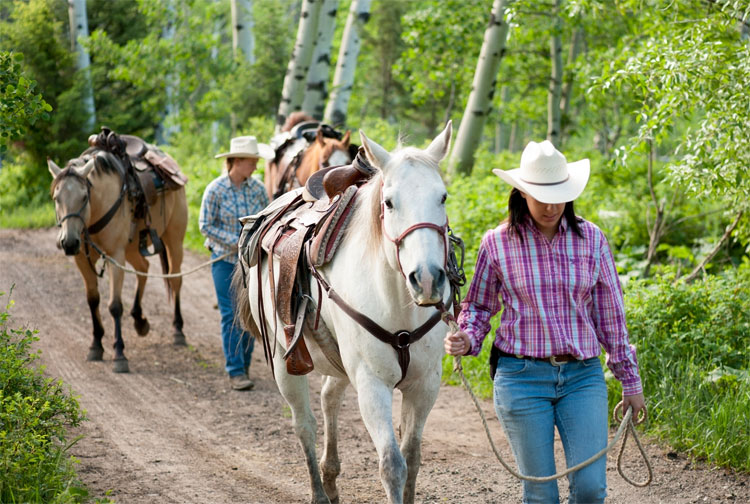 Ranches are essential to Montana's rich history and culture. In Montana, visitors can experience the cowboy way without sacrificing the comforts of first-class lodging. Guest ranches offer a variety of immersive and informative activities, including horseback riding, local cuisine, and a first-hand look at what it means to work on a ranch. Each ranch offers its own unique style and offerings, including luxury accommodations, exciting treks through the backcountry, and authentic ranching activities. For those looking to enjoy a true Montana adventure, these working dude and guest ranches offer gracious western hospitality with a bit of adventure.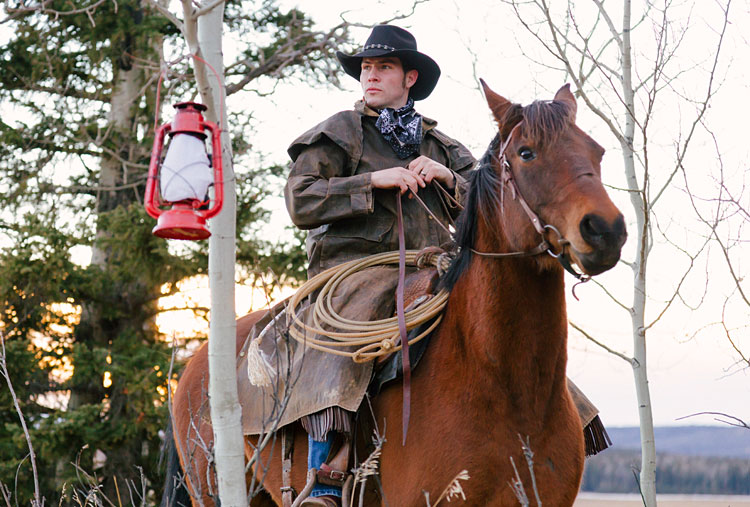 Bar W Guest Ranch is a western vacation hotspot for the entire family. Located on Spencer Lake at the base of Spencer Mountain, Bar W Guest Ranch is a year-round dude ranch with more than 3,000 acres to explore. Known for its excellent horseback riding program, visitors can learn the basics of riding, roping, and barrel racing, or head to the trails that run through mountains and meadows alike. The ranch also offers a number of lodging options, including the rustic main lodge, private cabin suites, and even elegant glamping tents. For families with young children, Bar W Guest Ranch offers a Cowpoke program, which treats kids to a full cowboy experience – including pony rides, riding lessons, scavenger hunts, and arts and crafts.
Founded in 1929, Mountain Sky Guest Ranch treats visitors to a luxurious western stay. Sitting in the heart of beautiful Yellowstone Country, the property begins in the Paradise Valley and continues through the Custer Gallatin National Forest. Guests can choose from a number of outdoor activities, including horseback riding, guided hikes, and fly-fishing at Big Creek on the famous Yellowstone River. For those looking to relax, the ranch offers an on-site golf course, a fitness center, and a variety of yoga classes. Mountain Sky Guest Ranch combines a traditional ranch experience with luxurious accommodations, creating an experience that the whole family will love.
JJJ Wilderness Ranch prides itself on providing a classic dude ranch experience. Located near the 1.5 million acre Bob Marshall Wilderness Complex, visitors are treated to an unspoiled Montana experience. In addition to horseback riding and hiking, guests can try their hand at trap shooting, archery, and mountain climbing. JJJ Wilderness Ranch also offers guided horse pack trips in the Bob Marshall Wilderness Complex, taking guests along the Continental Divide and ending around the fire at a comfortable campsite. Visitors to this ranch will be treated to a thrilling adventure through the unforgettable Montana backcountry.
For those looking to learn what it takes to run a ranch, Double Spear Ranch is your go-to destination. Owned and operated by the Blackmore family for nearly 200 years, this ranch proudly displays its rich history. Guests are given their own cow and horse to tend to during the duration of their stay. In the springtime guests help with tagging and vaccinating newborn calves, and in the summer they learn the basics of branding and farming hay and grain. Visitors are also treated to a number of relaxing activities, including nights around the campfire, boat trips on Big Horn Lake, and daytrips to Yellowstone National Park and Little Bighorn Battlefield National Monument.  Double Spear Ranch is the perfect destination for those looking to get their hands dirty with an authentic ranch experience.
A large part of the ranch experience is riding on horseback, and at Rocking Z Guest Ranch, visitors can master that skill. Owned by the Wirth family, fifth-generation Montana ranchers, Rocking Z Guest Ranch pairs guests with horses that match their personality and experience level. Each visitor will form a bond and working relationship with his or her horse through a variety of activities, including cattle herding, trail riding, barrel racing, and more. Each day is tailored to the needs of the day, guaranteeing a new experience each stay. Rocking Z Guest Ranch is sure to turn riders of all experience levels into seasoned veterans.
In addition to these guest ranches, get a look at a working ranch in Home on the Range, the latest installment in the Discover Your #MontanaMoment video series from the Montana Office of Tourism and Business Development.
Looking for more ranches? Check out Montana's ranch page for a full list of ranch vacations.
MOTBD markets Montana's spectacular unspoiled nature, vibrant and charming small towns, breathtaking experiences, relaxing hospitality and competitive business climate to promote the state as a place to visit and do business. For more information, go to VISITMT.COM.