Hilton Clearwater Beach Resort & Spa, an icon of Clearwater Beach for nearly four decades, is thrilled to announce the completion of a multi-million dollar renovation. The legendary nine-story resort stands better than ever following the immense 16-month remodel. Highlights of the remodel include a beautiful new bi-level open lobby, new front entrance with round-about, all newly renovated meeting rooms and brilliant new LED lighting systems throughout the hotel.
"This renovation is further evidence of the commitment we have to provide our valued guests with the best experience possible," comments Hilton Clearwater Beach Resort & Spa General Manager Carlos Sanchez. "We strive for guests to have the ultimate experience while staying at our resort and believe these new revitalizations allow us to continue exceeding guest expectations."
The multi-million dollar transformation of the Hilton Clearwater Beach Resort & Spa was designed to capture the energy and evolution of Clearwater beach. The landmark hotel's new modifications create a more enhanced stay where guests can readily enjoy both business and pleasure. The renovations further embrace the Hilton brand with a modern design focused on delivering superior hospitality down to the smallest of details.
This impressive remodel follows the expansive $20 million renovation that was completed in June 2017. Those renovations included all new guest rooms, multiple interior upgrades, two new pools, a new restaurant, new spa, new fitness center and a newly opened Starbucks.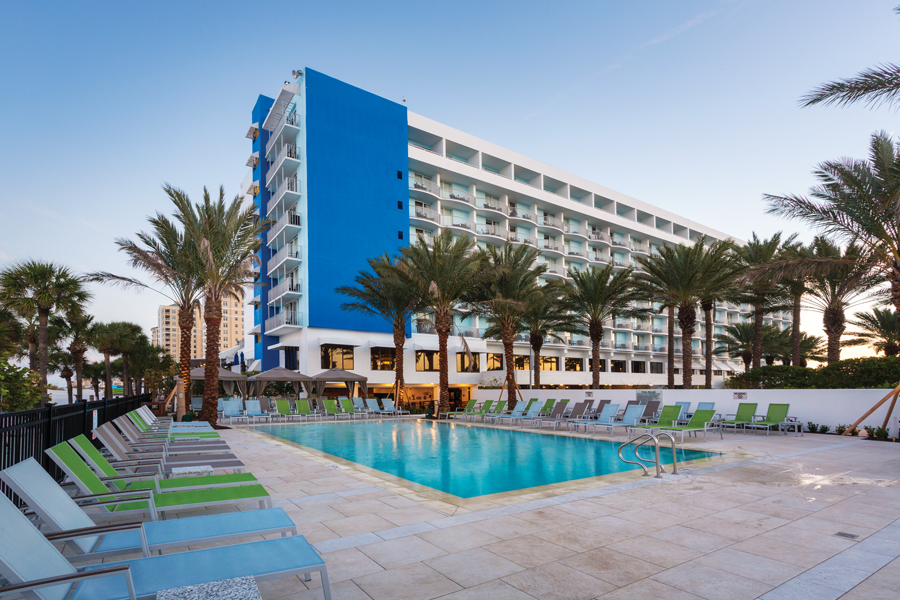 Renovations:
New Entryway – Guests arriving at the Hilton Clearwater Beach Resort & Spa will enjoy a welcoming new arrival experience with a completely remodeled grand front entryway anchored by a convenient roundabout. The new construction creates a welcoming and highly convenient arrival to the resort.
New Lobby – One of the crowning jewels of the renovations is the spectacular new bi-level open lobby. The contemporary, casual design blends with a chic retro twist to create a large, light and extremely open space. A locally inspired design and innovative use of live plants, interesting textures and classic lines create the perfect welcome for guest check-in.
Updated Tommy's Tiki Bar – The addition of an exclusive dining area was added to Tommy's Tiki Bar. Guests now have the luxury of an expanded dining area to enjoy as they watch a picturesque sunset. Tommy's Tiki Bar, is Clearwater Beach's only tiki bar located directly on the sand and the Hilton Clearwater Beach Resort & Spa is the only hotel on Clearwater Beach where guests can consume alcoholic beverages nearly down to the water's edge.
Renovated Meeting Space – The 30,000 square-feet of flexible indoor/outdoor meeting space also received a complete transformation, including the Grand Ballroom and the Water's Edge Ballroom. All meeting rooms and common areas received new carpet, wall coverings, lighting and artwork.
Communication Enhancements – For guests who desire to bypass the front desk, a digital key system was initiated which provides guests the ability to use their smartphone to select accommodations and access their room and other facilities during their stay. Kipsu, a cutting-edge software which revolutionizes how the Resort interacts with consumers, was also implemented. The ingenious interactive texting program allows the resort to expedite guest requests and greatly shorten response times.
General Improvements – Other upgrades included newly renovated elevator landings with all new LED lighting systems added throughout the hotel. Additionally, new sound systems were installed throughout the hotel and meeting space areas. Elevated Wi-Fi bandwidth was added throughout hotel. Green initiatives were also put in place such as recycling, water use conservation, linens conservation, and the installation of timers on air conditioners throughout the meeting space and guest rooms.
New Team Member – To support the numerous physical enhancements of the renovation, a new sales team member was hired. Tammy King was appointed as National Sales Manager and will assume all responsibilities under that title with a dedication to the Southeast Market. She is a member of FSAE, Tampa Bay Area MPI, Tampa Bay Area Beaches Chamber and Women in Tourism. With over 20 years of hospitality and sales leadership, Ms. King specializes in new business development, major market acquisition and client retention. Ms. King's hiring supports the Resort's strategic direction to strengthen guest relationships as well as expand the integrated sales support coverage.